Our Doctors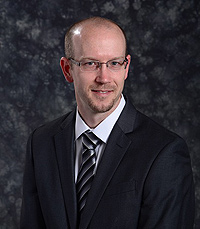 Jamie Miller, MD graduated from West Virginia University with a Bachelor of Arts in electrical engineering in 1997. He specialized in automated control systems designs before deciding to pursue a career in medicine. He graduated from West Virginia University School of Medicine in 2004 and completed his residency at West Virginia Eye Institute in 2008. After completing his fellowship, Dr. Miller joined the West Virginia University Eye Institute staff and continues to practice as an assistant professor.
He joined Regional Eye Associates in 2011 and specializes in diabetic eye disease, macular degeneration, retinal detachment, macular holes, and many other vitreoretinal diseases. His combined expertise in technology and vitreoretinal diseases allows him fully customize treatments for his patients.
When he is providing excellent patient care, Dr. Miller enjoys spending time with his family and cheering on his beloved Mountaineers. He and his wife Erin have two sons, Evan and Luke. Dr. Miller also enjoys many outdoor activities like biking, running, and gardening in his spare time. Dr. Miller and his family reside in Morgantown.