OCT Technology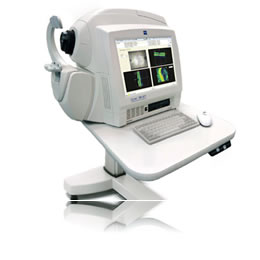 Optical Coherence Tomography, or OCT for short, is a non-invasive technology used for imaging the retina, the multi-layered sensory tissue lining the back of the eye. OCT, the first instrument to allow doctors to see cross-sectional images of the retina, is revolutionizing the early detection and treatment of eye conditions such as wet macular degeneration, macular holes, pre-retinal membranes, macular swelling and even optic nerve damage.
Similar to CT scans of internal organs, OCT uses the optical backscattering of light to rapidly scan the eye and show a pixel representation of the ten layers within the retina. Each of these ten layers can be differentiated and their thickness can be measured.
For certain conditions, such as age-related macular degeneration and cystoid macular edema, testing using OCT technology is able to reduce or eliminate the need for fluorescein angiography for some patients.